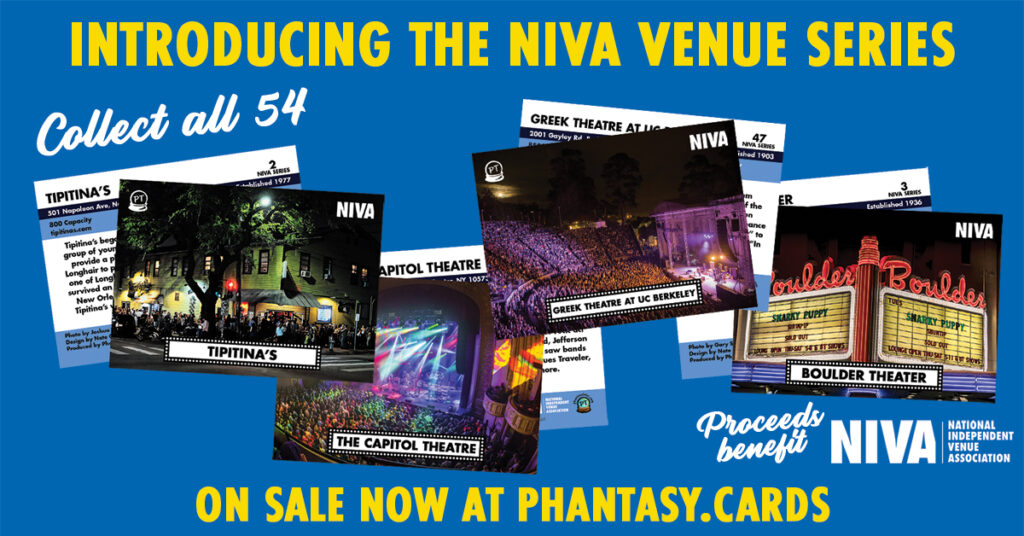 Today we are very pleased to unveil our first Venue Series in collaboration with the National Independent Venue Association. The series features 54 venues from across the country, each with their own card. They include hometown favorites such as The 8×10, The Greek Theatre at UC Berkeley, Tipitina's, the Boulder Theater, and McMenamins Crystal Ballroom. Proceeds from sales of the Venue Series support NIVA and its mission to preserve and nurture the ecosystem of independent venues and promoters throughout the United States (https://www.nivassoc.org).
Each card in the series features a photo of the venue on the front, venue information on the back and a foil stamp for authenticity. The cards are randomly sorted into packs containing 9 venues each. In addition to packs, collectible display boxes containing 16 packs are also available for sale. The cards and packaging were designed by Nate Gonzalez of The Moon Life (https://themoonlife.com).
All venues in the series are members of NIVA. Phantasy Tour selected the venues in the series from a pool of applicants that responded to an invitation from NIVA last fall. A complete list of the venues in the new series can be found at https://merch.phantasytour.com/phantasy-cards-niva-venue-series. Artists and venues interested in being featured on a trading card in the future can inquire at https://phantasy.cards/contact-us.
About Phantasy Tour Live Music Trading Cards
Phantasy Cards are high quality, officially licensed trading cards featuring the photos and bios of touring musicians, bands and venues. The cards are thoughtfully designed and foil stamped for authenticity. They are sold in randomly sorted packs. Learn more at https://phantasy.cards.
About Phantasy Tour
Founded in 1999, Phantasy Tour is a social media platform for live music fans. Phantasy Tour members compile the show, song and setlist histories of their favorite bands and run stats and collect their experiences based on that information. Fans can interact with other fans and play setlist prediction games similar to fantasy football. Phantasy Tour also offers data services to bands, allowing them to display their show and setlist history on their own websites and analyze show and setlist analytics. Learn more at https://www.phantasytour.com.
About NIVA
Formed at the onset of the COVID-19 shutdown, the National Independent Venue Association (NIVA), now represents more than 3,000 members in all 50 states and Washington, D.C. NIVA created and led the #SaveOurStages campaign, resulting in landmark legislation establishing the "Shuttered Venue Operators" Grant program to be administered by the Small Business Administration. NIVA's mission is to preserve and nurture the ecosystem of independent live venues, promoters and festivals throughout the United States. The National Independent Venue Foundation (NIVF) was founded to further this mission by also seeking to support a transparent, competitive marketplace serving a diverse and inclusive community of artists, fans, and industry workers. The NIVA Emergency Relief Fund (ERF) is a tax-deductible way for individuals, companies, and foundations to contribute. The NIVA ERF directly supports the preservation of the independent live entertainment ecosystem that presents music, comedy, and the performing arts, helping these critical spaces survive through the Coronavirus pandemic. Individuals, foundations, businesses, and organizations that are interested in contributing to the NIVA Emergency Relief Fund should visit https://nivassoc.org/erf.